Product Safety Assessments
IHSC can assist your company with evaluating your products for any regulatory and safety issues. We can assist in choosing less hazardous raw materials, ensuring proper labeling and containers (including child resistant or poison prevention packaging), and evaluate for product and region specific regulations.
Frequently asked questions include:
What is the GHS?
The GHS is the Globally Harmonized System for the classification and labeling of chemicals. It is an attempt by the international community to simplify and streamline labeling and hazard communication elements in all sectors all over the world.
Why is the GHS needed?
Before the GHS, many countries or regions had their own legal requirements for the information required on a label or Safety Data Sheet. This would cause problems for companies who wanted to sell products on the global marketplace. The goal of the GHS is to get rid of those differences.
What are the benefits of the GHS?
Products labeled under the GHS, in theory, should be able to be sold anywhere in the world with only translations required. This should cut down on costs, supplies, and should also improve worker and user understanding of the hazards of the products they use. In the end, this should improve worker and user safety while decreasing supplier cost.
What is a Safety Data Sheet?
A Safety Data Sheet (SDS) is a document prepared by a supplier that gives detailed information about a product. This information includes potential health hazards, potential physical hazards, potential environmental hazards, first aid recommendations, handling and storage advice, and many other useful pieces of information. It is required in many countries and regions to provide a SDS for any product sold to workplaces.
What is the role of the SDS in the GHS?
The SDS is a major component of the hazard communication side of the GHS. Combined with the label, the SDS is used to provide a more complete set of information in addition to the overview provided on the label.
Is there a specific SDS format?
The format for a SDS is a 16-Section format. Information in the SDS should be presented using the following 16 headings in the following order:
Identification
Hazards identification
Composition/information on ingredients
First aid measures
Firefighting measures
Accidental release measures
Handling and storage
Exposure controls/personal protection
Physical and chemical properties
Stability and reactivity
Toxicological information
Ecological information
Disposal considerations
Transportation information
Regulatory information
Other information
What is the implementation status and transition period of the GHS in the US?
By December 1, 2013, employers must have trained their employees on the new label elements and SDS format. By June 1, 2015, chemical manufacturers, importers, distributors, and employers must comply with all modified provisions. However, distributors may ship products labeled by manufacturers under the old system until December 1, 2015. By June 1, 2016, employers must update alternative workplace labeling and hazard communication programs as necessary, as well as provide additional employee training for newly identified physical or health hazards. During the transition period, all chemical manufacturers, importers, distributors, and employers must comply with either the new 29 CFR 1910.1200, the current standard, or both.
What is Classification?
Classification is the starting point for hazard communication. Classification involves the identification of the hazard, or hazards, of a chemical or a mixture by assigning a class by comparing data about a chemical to defined criteria. There are three steps in the classification process. First is identification of relevant data regarding the hazards of a substance/mixture. Second, subsequent review of the data must be done to ascertain the hazards associated with the substance/mixture. Finally, a decision must be made whether the substance/mixture will be classified as hazardous and the degree of hazard by comparison with hazard classification criteria.
What are the GHS Physical Hazards?
Physical Hazards are substances which threaten the physical safety of individuals. In the GHS, there are 16 classes of Physical Hazards. They are Explosives, Flammable Gases, Flammable Aerosols, Oxidizing Gases, Gases Under Pressure, Flammable Liquids, Flammable Solids, Self-reactive Substances and Mixtures, Pyrophoric Liquids, Pyrophoric Solids, Self-heating Substances and Mixtures, Substances and Mixtures which in contact with water emit Flammable Gases, Oxidizing Liquids, Oxidizing Solids, Organic Peroxides, and Corrosive to Metals.
What are the GHS Health Hazards?
The GHS has 10 Health Hazard classes. They are Acute Toxicity, Skin Corrosion/Irritation, Serious Eye Damage/Eye Irritation, Respiratory or Skin Sensitization, Germ Cell Mutagenicity, Carcinogenicity, Reproductive Toxicity, Specific Organ Toxicity-Single Exposure, Specific Organ Toxicity-Repeat Exposure, and Aspiration Toxicity.
What are the GHS Health and Environmental Hazards?
The Environmental Hazard class is comprised of Hazardous to the Aquatic Environment, which is comprised of Acute Aquatic Toxicity and Chronic Aquatic Toxicity and Hazards to the Ozone Layer in the upper atmosphere.
What are the GHS label elements?
Some GHS label elements have been standardized while others are harmonized with common definitions and/or principles. The standardized label elements include Symbols (hazard pictograms), Signal Words, and Hazard Statements. Other GHS label elements include Precautionary Statements and Pictograms, Product Identifier, Supplier Identification, and Supplemental Information. In the US, the precautionary statements are also considered standardized.
Is there a specific GHS label format?
The format or layout of a label is not specified in the GHS. However, the GHS pictograms, signal word, hazard statements and precautionary statements should be located together on the label. Example of GHS/Hazcom 2012 Label: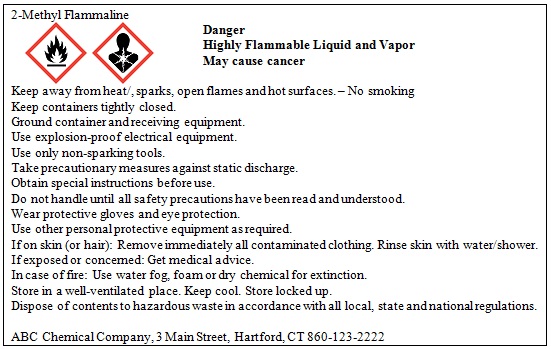 Hazcom 2012 - What has changed?
With the introduction of Hazcom 2012, major changes have applied to the definition of "hazardous chemical", hazard classification, labels, and safety data sheets. A hazardous chemical now refers to any chemical which is classified as a physical hazard or a health hazard, a simple asphyxiant, combustible dust, pyrophoric gas, or hazard not otherwise specified. Chemical manufacturers and importers are required to determine the hazards of the chemicals they manufacture or import. Hazard classification now provides specific criteria to address health and physical hazards as well as classification of chemical mixtures. The requirements for when labels are required have remained unchanged; however, label content has changed. Labels now must also include a signal word, pictogram, hazard statement, and precautionary statement based on the classification. Hazcom 2012 incorporates a standard 16 section SDS with the classification being detailed and the labeling appearing in Section 2.
Will the GHS change Consumer Product Labeling in the US?
No; the regulations that specify labels for consumer chemicals are in the Consumer Products Safety Commission (CPSC) regulations. These regulations are not changing at this time. Consumer chemicals are exempted from the OSHA labeling requirements, even when they are used in the workplace so the CPSC regulations take precedence over chemicals that are sold to the public. SDS will need to be available to employers who use consumer products in the workplace in a non-consumer manner. These SDS must comply with the OSHA Hazard Communication regulation.
What is REACH?
REACH is a European Union regulation that concerns the registration, evaluation, authorization, and restriction of chemicals. The REACH regulation applies to substances manufactured or imported into the EU in quantities of 1 tonne or more per year.
How is REACH different?
REACH requires manufacturers and importers of substances to register them with a central European Chemicals Agency (ECHA). If the substance is not registered, it will not be legally allowed to be manufactured or supplied. The main difference with REACH is that all substances must be registered (with limited exceptions) whether hazardous or not and each individual importer or manufacturer must register a substance they manufacture or import. The philosophy of REACH is that the suppliers of chemicals must demonstrate that they can be used safely.
What are SVHCs?
SVHCs (Substances of Very High Concern) are substances that have hazards with serious consequences regarding the health of individuals and the environment. One of the aims of REACH is to control the use of such substances and encourage manufacturers to substitute them for safer substances. After a substance has been designated a SVHC, the substance will be subject to authorization. That requires that any supplier or use must apply for permission to use the SVHC or place it on the market.
What is the timeline for REACH?
By June 1, 2018 all substances manufactured or imported in quantities of 1 tonne/year or greater must be registered. All new substances introduced into the EU market above 1 tonne/year must be registered before the 1 tonne threshold is reached.
What Regulations in the EU govern chemical labels?
Previously the EU Directives on Dangerous Substances and Preparations regulated chemical labels in the EU. The EU is in transition to the EU version of the GHS called the Regulation on the Classification, Labelling and Packaging of chemicals. This regulation will be fully effective on June 1, 2016. This regulation covers the labeling of both workplace and consumer chemicals.
What Regulation in the EU governs SDS?
The REACH regulation contains the requirements for Safety Data Sheets for the EU.
Does REACH require any changes to the SDS?
Effective June 1, 2007, new and revised SDS were required to be in GHS format but the GHS classification and content was not required. The main change was that Section 2 and Section 3 were switched and that the EU address and phone number is now required, along with an email address for information. In 2010 a new mandatory format was introduced for SDS in the EU. This REACH format is now required for all new and revised SDS. Pure substances must be classified in accordance with the EU adoption on the GHS (called the Classification, Labelling and Packaging Regulation – CLP) and this information provided in Section 2 of the SDS. By June 1, 2015, all mixtures must be classified and labeled in accordance with the CLP. SDS will need to be revised by that date for mixtures to include CLP classification and labeling.
Why should I choose IHSC?
As a small consulting firm, IHSC offers personal service that large firms do not. A member of our staff will always be available to answer your questions. For more than 30 years we have provided free telephone (and now email) answers to client questions. We have developed partnerships around the world so we can recommend qualified consultants outside the US when an in-country consultant is needed or when you need an answer that is outside or knowledge area. We work hard to maintain the highest level of qualification and service.
How is the staff qualified?
Our staff includes three certified industrial hygienists, one with an additional safety certification (CSP). Three of our SDS authors are Registered SDS and Label authors through the AIHA registries program. All SDS and label work is supervised directly by a registered individual. We have rigorous internal training for our professional staff. In addition, our staff attends frequent external training and conferences to keep their knowledge and skills up to date.